Filmowe wakacje - zapisy
Nie macie jeszcze pomysłu na wakacje? Chcielibyście nauczyć się czegoś nowego? Spędzić czas wspólnie i kreatywnie?
Dobrze trafiliście! Wakacje w mieście wcale nie muszą być nudne!
GRUPY ZORGANIZOWANE I OSOBY INDYWIDUALNE
Na wszystkie warsztaty obowiązują zapisy. Grafik warsztatów dostępny jest pod linkiem – KLIK
Prosimy o kontakt telefoniczny +48 609 696 506 lub mailowy studio@mlodziezowa.tv
Zapraszamy do zapoznania się z bezpłatnymi warsztatami w pozostałych pracowniach:
GRAFIK WARSZTATÓW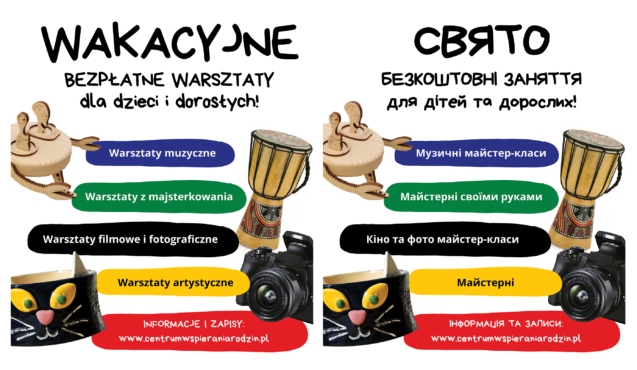 Studio telewizyjne
Liveroom (20m²)
to przestrzeń, w której, ze względu na jego wielkość, realizujemy głównie stand-upy i newsy z użyciem promptera oraz zdjęcia specjalne i wywiady (prowadzący + max 2 rozmówców) z wykorzystaniem technologii wirtualnego studia i kluczowania green screena.
Do rejestracji obrazu w studio używamy trzech kamer Blackmagic połączonych z mikserem obrazu w reżyserce. Kamerami sterujemy z poziomu reżyserki lub z pomocą asystentów kamer w studio. Poza statywami stacjonarnymi istnieje możliwość użycia kranu, który posiadamy na wyposażeniu studia, jednak w ograniczonym zakresie ze względu na wysokość pomieszczenia. Montaż wielokamerowy w czasie rzeczywistym realizowany jest zarówno za pośrednictwem oprogramowania vMix jak i analogowego miksera.
Oświetlenie studia to lampy fluorescencyjne umieszczone na prowadnicach sufitowych o łącznej mocy maksymalnej 80 tysięcy lumenów, które w razie potrzeby uzupełniamy lampami typu led. Światło naturalne, pochodzące z okien, wysłonięte jest kotarami i zwykle go nie używamy, choć w razie potrzeby istnieje taka możliwość.
Przykładowe realizacje nagrań w studio możecie zobaczyć na jednym z prowadzonych przez nas kanałów: Patent na szkołę
Zobacz galerię
Reżyserka
Stanowisko realizatora obrazu zbudowane jest w oparciu  o system PC, oprogramowanie pakietu Adobe (w szczególności Adobe Premiere i After Effects) oraz vMix i mikser audio-video Blackmagic ATEM. Reżyser dysponuje na żywo kilkudziesięcioma efektami przejść, wbudowanymi zarówno w sprzętowy jak i softowy mikser wizyjny. Podgląd wielu źródeł na monitorze montażowym jak i podglądzie 40 calowym pozwala na łatwy montaż wielokamerowy w czasie rzeczywistym. Realizator oddzielony jest szybą dźwiękoszczelną od studia, z którym ma kontakt za pośrednictwem interkomu.
Używane przez nas rozwiązania umożliwiają jednoczesne nagrywanie i streaming materiałów wideo połączeniem światłowodowym o przepustowości 1000 Mb/s w obu kierunkach. Dzięki nim możemy transmitować zarówno wywiady jak i eventy online, tworzyć i wykorzystywać przestrzenie wirtualnego studia a także realizować wydarzenia i konferencje hybrydowo.
Podgląd jak i odsłuchy stereofoniczne pozwalają na przeglądy materiału (kolaudacje) z udziałem do dziesięciu uczestników szkoleń, autorów lub zleceniodawców.
Zobacz galerię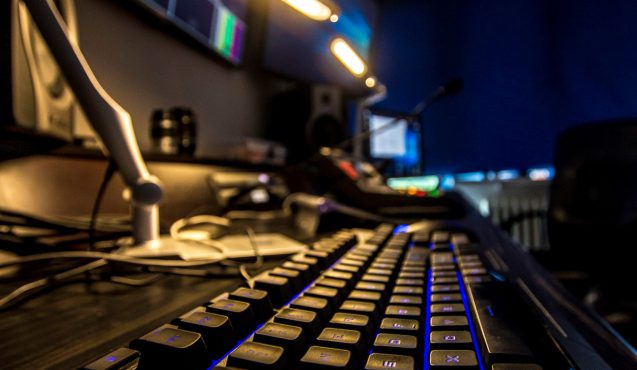 Montażownia
Proces postprodukcji (montaż i udźwiękowienie filmów) realizujemy z wykorzystaniem zarówno komputerów PC jak i Mac w oparciu o oprogramowanie pełnego pakietu Adobe. Do celów warsztatowych używamy 5 stanowisk pracujących w środowisku macOS (jednomonitorowe 27") a dla celów produkcyjnych 5 stanowisk pracujących w środowisku Windows (dwumonitorowe 21″).
Ponieważ wszystkie stanowiska znajdują się w jednym pomieszczeniu, w trakcie montażu korzystamy ze słuchawek nausznych Sennheiser. Pracujemy głównie na plikach w formacie 4K i HD ale obsługujemy także wszelkie dostępne formaty typu: SD, AVI, MP4, H264, MPEG-2, WMV, QuickTime, MP3, RTSP, PowerPoint, Photos, Flash, RTMP, Solid Colour i wiele innych.
W zależności od wielkości materiału źródłowego i formatu zapisu montujemy na oryginalnych wielkościach plików lub po przeliczeniu z użyciem proxy. Do renderowania i przeliczania np. przy okazji kluczowania długich nagrań (Chroma Key) używamy kilku połączonych komputerów i kart graficznych. Nad całym procesem produkcji czuwa reżyser montażu, który akceptuje materiały do emisji, nanosi poprawki do projektów i dba o podnoszenie kwalifikacji zespołu.
Wsparcia w zakresie edycji dźwięku, zwłaszcza wówczas, gdy wymaga on zaawansowanej obróbki (np. usuwanie echa lub brudów tła), udziela nam siostrzany FabLab Pobite Gary! (link: 
http://fablabpobitegary.centrumwspieraniarodzin.pl/fablab-pobite-gary/
). Tworzy dla nas także muzykę tła, którą usłyszeć możecie w naszych reportażach a także dżingle i przerywniki muzyczne.
Współpraca
Do współpracy zapraszamy dzieci, młodzież i młodych dorosłych do 26 roku życia, zorganizowane grupy w szczególności ze stołecznych szkół, organizacji pozarządowych oraz miejskich instytucji pracujących z dziećmi i rodzinami.
Skontaktuj się z nami
Kontakt
Adres
ul. Stara 4, 00-231
Warszawa
Telefon
E-mail